Yogiville Ayurveda
Yogiville Ayurveda, our onsite Ayurveda & Naturopathy centre near Tiruvannamalai, offers a full service of options for Ayurvedic & Naturopathic treatments on a residential basis, as a day patient and virtually LIVE Online. Treatments, services and courses include Panchakarma, cleanses, Ayurvedic massages, consultations with the Ayurvedic doctor and Ayurveda courses. Yogiville Ayurveda clients will benefit from the onsite and LIVE Online yoga and meditation classes and are encouraged to participate in daily yoga classes to complement their treatment program.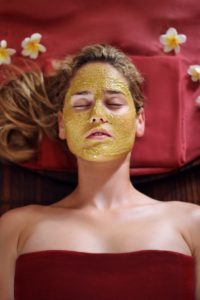 Ayurveda originated in India more than five thousand years ago and is the oldest continually practiced healthcare tradition in the world. Its written source is found in the ancients texts of the Vedas, transcribed by great sages and seers who produced India's original systems of Astrology, Yoga and Meditation.
"Ayur" means "span of life" and "Veda" means "knowledge."
Simply put, Ayurveda concerns itself with the maintenance, quality and longevity of life. The Science of Life.
Fundamental principle of Ayurveda is that our body consists of five elements: air, fire, water, earth and ether, and each of these elements constantly being consumed by our nature and our body. Ayurveda believes the well-being depends on the quality, quantity, and pattern of these elements. An analysis of this pattern can give accurate insight into the metabolism of the person and facilitate sooner recovery from ailments. The extended agenda of Ayurveda is to prevent the onset of imbalance altogether.
Note: All Treatments Programs are planned once you complete a detailed consultation with our Ayurvedic doctors.