India Retreat Date with Yogi Ashokananda / December 12 – 21 2022
---
Retreat: Journey of Self Discovery – 10 days
Dates: 12 – 21 December 2022
Teacher: Yogi Ashokananda
Retreat Fees: from £600
---
Journey of Self Discovery retreat with Yogi Ashokananda will help you find inner balance, develop strength and awareness to support your journey in life through Yogiville lifestyle and local pilgrimage. We will explore and precise Himalayan Hatha Yoga, Prana Kriya Yoga and Atma Kriya Meditation, along with the Naturopathic and Ayurvedic therapies available at our onsite Neuroprana Wellness Centre.
If you enjoy yoga, meditation, nature, local culture, meditation caves, ancient temples, sacred mountain pilgrimage, great Ayurvedic food and India, this is the retreat for you.
---
Highlights
Daily Practice – 2 Yoga & 1 Meditation sessions

Himalayan Hatha Yoga, Prana Kriya Yoga, Atma Kriya Meditation, pranayama, mudra, mantra, and stories

Yoga to fit all levels of fitness and experience

9 night's accommodation

Tasty vegetarian or plant based sattvic meals, Breakfast, Lunch & Dinner, herbal tea, and filtered water

Guided Tours including Cave Treks, Mt Arunachala summit hike, Ramana Ashram & Arunachaleswarar Temple

Ayurvedic Consultation & a 60 minute Ayurvedic Abhyanga Massage

Free time to explore or simply relax

Use of yoga mats and the props
---
Daily Routine
Early Morning Practice – Prana Kriya Yoga
Breakfast
Mid Morning Practice – Atma Kriya Meditation
Nature Walk, Massage, Hammock, lounge by the pool, local tours, Read a book, bicycle.
Lunch
Nature Walk, Massage, Hammock, lounge by the pool, local tours, Read a book, bicycle.
Evening Practice – Himalayan Hatha Yoga
Evening Meal
Fire, drumming, chanting, storytime, Sangha
zzz…..bedtime
---
Included in the retreat fee:
Accommodations for 10 Days / 9 Nights

Private or shared basis
Standard, Deluxe & Super Deluxe accommodations available
All rooms have en-suite facilities, ceiling fans and air conditioning
Meals

Breakfast, Lunch & Dinner
Sattvic – Vegetarian freshly prepared, no onions, eggs, garlic or mushrooms
Herbal Teas, water, Kettle facilities

Practices –

arrival day – 1 Yoga & 1 Meditation session
Departure Day – 1 Yoga & 1 Meditation session
Days 3 thru 9 – 2 Yoga & 1 Meditation session
Use of yoga mats and props

Nature

Free time to explore our 14 acres
Swimming Pool
Relax in hammock

Tours

Ramana Ashram and Caves (Virupasksha & Skandashram)
Mt Arunachala Sunrise Summit Hike
Arunachaleswarar Temple Tour

Onsite temple w/ Puja evening
Neuroprana wellness

60-minute Ayurvedic Massage
Ayurvedic Consultation with Doctor
Not included in the retreat fee:
Airport Transfers to / from Yogiville India

Extra Nights accommodations
Local Transport outside of tours
Flights
Additional Massage / Treatments
Retreat Tours
Cave Trek
Guided tour to two important caves on Arunachala that have been used by Enlightened masters for meditation over many centuries, for more than a thousand years. These caves hold the energy of high consciousness, which can be experienced within. Virupaksha Cave is one such high energy cave. We will also visit Skandashram, Sri Ramana Maharishi's first ashram on Arunachala.
Ramana Ashram
Following the Cave Trek, you will visit Sri Ramana Ashram. The ashram is a highly spiritual enriching place and there are temples and meditation halls to visit. Depending on the time of day of our visit, we can spend time meditating in the meditation hall, it is a delightful place to meditate, we may observe or participate in the rituals of puja or Vedaparayana, boys from the onsite Gurukul lead the vedic chanting.
There is shrine devoted to Lord Shiva and pujas are conducted here on Fridays, special days and all full moon days. The tomb of Sri Ramana is located inside the ashram in a mantap. Peacocks roam freely through the ashram.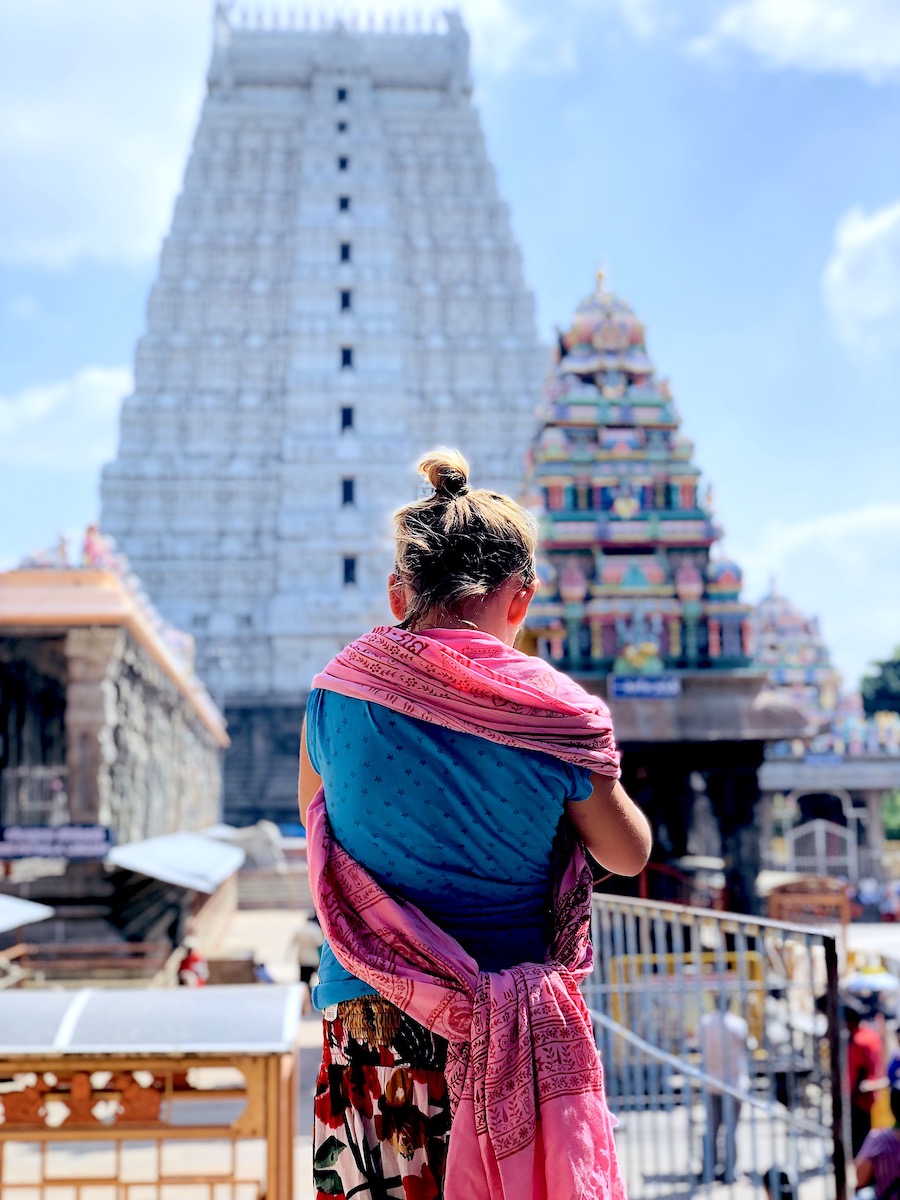 Arunachaleswarar Temple
Guided tour of this significant 9th century temple, believed to be the largest in the world dedicated to Siva. The temple complex covers 10 hectares, and is one of the largest in India. It houses four gateway towers known as gopurams.
The tallest is the eastern tower, with 11 stories and a height of 66 metres (217 ft), making it one of the tallest temple towers in India The temple has numerous shrines, with those of Arunachalesvara and Unnamalai Amman being the most prominent.
The temple complex houses many halls; the most notable is the thousand-pillared where Sri Ramana achieved Samādhi, the blissful return to our Divine origin
Retreat Consultation & Treatment – Neuroprana Wellness
An Ayurvedic consultation is included in this retreat – a full health evaluation and the use of diagnostic techniques such as pulse or tongue analysis, to arrive an an understanding of your individual Tridoshic constitution, and to assess your physical, mental and emotional situation.
Based on the evaluation, our Doctor will offer you advice on where to focus to restore and enhance your health and well-being. This holistic approach will likely include nutrition and lifestyle changes, Ayurvedic herbal supplements, various body therapies, yoga and meditation.
A 60 minute (full body massage) is included in this retreat. Abhyanga Treatment is performed using warm medicated oils. This is a full body massage with light pressure applied on sensitive areas, nerve endings such as soles of the feet and palms and base of the fingers. After a healing massage, the oil is left on the body to do its magic.
General Information
We are served by two airports in the region, Chennai and Bangalore. Supplement for Bangalore Airport Transfers will apply.
Skill level
Beginner

Intermediate

Advanced
---
Yogi Ashokananda
Yogi is an expert and pioneer as a practising Master of Yoga, Meditation and Spirituality. He has dedicated his entire adult life in service to humanity by teaching, mentoring, writing, learning, and speaking on yoga, meditation, and spirituality. He is the Master who created the discipline of Himalayan Hatha Yoga, Prana Kriya Yoga & Atma Kriya Meditation, the results of practicing from a young age and benefiting from the teachings of several great Yogis.
---
Retreat Fee
Book & Pay