USA Retreat Date with Yogi Ashokananda / May 11 – 14
Retreat: Power of Self-Fulfillment – 4 days / 3 nights
Dates: May 11 – 14 2023
Teacher: Yogi Ashokananda
Retreat Fees: from US$980
Drop-in participation is welcome (conditions apply): US$50
---
We are excited to introduce you to the authentic teachings and practices of Yogi Ashokananda offered for the first time in Texas. The Power of Self-Fulfillment Retreat with Ruby Retreats at Camino Ranchito outside of Austin, Texas will be held over 4 days and 3 nights. Several sessions are earmarked for drop-in, providing opportunities for individuals to participate in these inspirational workshops with Yogi Ashokananda along with the entire retreat group.
We invite you to live the purification of your mind, body and senses to connect with your true essence through yoga and guided meditation, intriguing and thought-provoking discussions, healthy and nutritious food, puja (a sacred vedic fire ceremony), and many possibilities for nature walks.
Yogi Ashokananda will provide you with insight & practical experience to guide you into daily practices, develop awareness and create availability to find inner balance to support your journey in life and to be fulfilled.
You will expand your sense of who and what you are with the teachings of Yogi Ashokananda by applying the yoga & meditation disciplines he has developed. We will explore and practice Himalayan Hatha Yoga, Prana Kriya Yoga and Atma Kriya Meditation, invest time in self-contemplation, self-care, discourse and a sacred ceremony.
Yoga, Meditation and Ayurveda are yogic forms of personal development, taking personal responsibility for your health, education, and lifestyle. Individuals come to the path of self-fulfillment for a variety of reasons, including trauma, physical or mental illness, burn-out, major life incidences or simply on a continuous path to improve their well-being.
It is normal to question your purpose or reason for being, and how you want to spend the precious time available and start to consider general or specific improvements to your well-being to live the lifestyle you now desire.
Yoga, meditation and self-fulfillment go together, they train the mind to work through the problem, by addressing the priorities and remind us to connect to our inner self, our true being.
Finding peace at the physical level and not running away from yourself in your mind is key. You will leave the retreat weekend with the ability to help you find a long-lasting peace within yourself that allows you to be with all your emotions and feelings without the veneer of "positive thinking". In this way, you can be your true, authentic self, connected and compassionate with yourself and others.
Our chosen location is magical has been lovingly and thoughtfully created by our partner and host, Jenny Fairbank; Ruby Retreats at Camino Ranchito is nestled in the Texas Hill Country offering 100 acres of scenic views, mature oaks, lit walking paths, hiking trails, and a variety of natural habitat.
---
Highlights
Authentic Yoga & Meditation Practices, guided by the Master of the practices

Pranayama, Mudra, Mantra Chanting
Sangha, Puja (sacred vedic Fire Ceremony), Discourse and Storytelling

Yoga & Meditation to fit all levels of fitness and experience
Tasty vegetarian, sattvic meals lovingly prepared by the team at Mindful Meals
Herbal Teas, Coffee & fruit available through the day
3 Nights' Accommodations, with a variety of room types available for all budgets
Drop in possibilities to specific sessions and meal times
The location we have selected!! 100 Acres of scenic views and several private areas in nature to rest, relax & contemplate
Free time to explore the area and leverage for self-contemplation
Hot Stone Sauna House
Horseshoes
---
Daily Routine
Drop-in participants are welcome in the * sessions
Thursday – May 11
15:00 Arrivals / Check-in
16:00 Power of Relaxation
18:00 Dinner
19:00 Discourse / Chanting*
20:00 End of Day
Friday – May 12
7:30 Yoga Practice
9:00 Breakfast
10:00 Self-Contemplation / Free Time
12:00 Meditation*
13:00 Lunch
14:00 Self-Contemplation / Free Time
16:00 Yoga Practice
18:00 Dinner
19:00 Sangha Circle*
20:00 End of Day 2
Saturday – May 13
7:30 Yoga Practice
9:00 Breakfast
10:00 Self-Contemplation / Free Time
12:00 Meditation*
13:00 Lunch
14:00 Self-Contemplation / Free Time
16:00 Restorative Practice
18:00      Puja – Sacred Vedic Fire Ceremony*
19:30      Dinner
Sunday – May 14
7:30 Yoga Practice
9:00 Breakfast
10:00 Closing Discourse / Q&A*
11:00 Check-out / Departures
---
Yogi is an expert and pioneer as a practising Master of Yoga, Meditation and Spirituality. He has dedicated his entire adult life in service to humanity by teaching, mentoring, writing, learning, and speaking on yoga, meditation, and spirituality. He is the Master who created the discipline of Himalayan Hatha Yoga, Prana Kriya Yoga & Atma Kriya Meditation, the results of practicing from a young age and benefiting from the teachings of several great Yogis.
Raised in India, he has been practicing yoga since early childhood when his Grandfather was his first teacher.
Over many years Yogi Ashokananda has been fortunate to develop his teaching, experience and education of yoga under some of the great, remote, Indian masters and siddhas. The Gurukul style of learning with the masters, influenced Yogi's experience and inspiration to develop his own profound yoga & meditation disciplines and insights which have their roots in the ancient, sacred Indian tradition. The outcome of this period in his life resulted in Himalayan Hatha Yoga, Prana Kriya Yoga, Atma Kriya Meditation & Science of Relaxation.
Yogi Ashokananda resides primarily in the UK, teaching across Europe, Asia, India and Live Online. His teachings have been available in the U.S. through his students and in 2022, he traveled to the States for the first time with a view to understand the interest in his teachings directly. He is delighted to be returning to the States, this time to Texas.
He continues to incorporate these beautiful practices into his daily life, while helping others to achieve the same. As an eternal student, he continues to learn from all his students and maintains an openness to new experiences.
All instruction in English
Yogi-ji also speaks: Hindi and Sanskrit
---
Included in the Retreat fee:
Accommodations – 4 days / 3 nights

Something for all Budgets
9 Rooms in 4 Houses (3 King, 5 Queen & 1 Full)
1 Bunk room
Camping

Meals – 4 days

Thursday – Dinner
Friday – Breakfast, Lunch & Dinner
Saturday – Breakfast, Lunch & Dinner
Sunday – Breakfast
Sattvic – Vegetarian/vegan freshly prepared, no onions, eggs, garlic or mushrooms
Herbal Teas, Coffee and Water
Fruits available throughout the day

Practices

Thursday – Power of Relaxation and Chanting / Discourse
Friday – Yoga (am and afternoon), Meditation & Sangha
Saturday – Yoga (am) Restorative Yoga (afternoon), Meditation & Puja
Sunday – Yoga (am) & Closing discourse Q&A

Free Time / Self Contemplation
Use of yoga mats and props
Hot Sauna Room
Not included in the Retreat Fee
Transfers to / from Ruby Retreat at Camino Ranchito
Flights
General Information
Nearest airports are Austin & San Antonio (~50 miles)
Skill level
New to Yoga or Meditation
Beginner
Intermediate
Advanced
---
Yummy Food
Rebecca and the Mindful Meals team have worked closely with us to plan a very special menu to support and complement our retreat experience. Mindful Meals are a collective of professional chefs, teachers, and dreamers. They love cooking and eating with awareness of where our foods come from and how they make us feel!
Our daily experiences will be filled with tasty plant-based meals freshly prepared by Rebecca & team following the principles of Ayurveda and Sattvic. 100% vegetarian, plant based, no onion, no garlic and no mushrooms.
Yogi will talk about why these are excluded when following a Sattvic approach.
Mindful Meals goal is to provide their Community with delicious, balanced meals using whole ingredients that nourish the Body, Mind and Soul.
They source produce from Texas farms, mindfully choosing other ingredients to enhance them. They do NOT use any processed salts, oils, fillers or artificial ingredients.
---
The Accommodations
The Rockhouse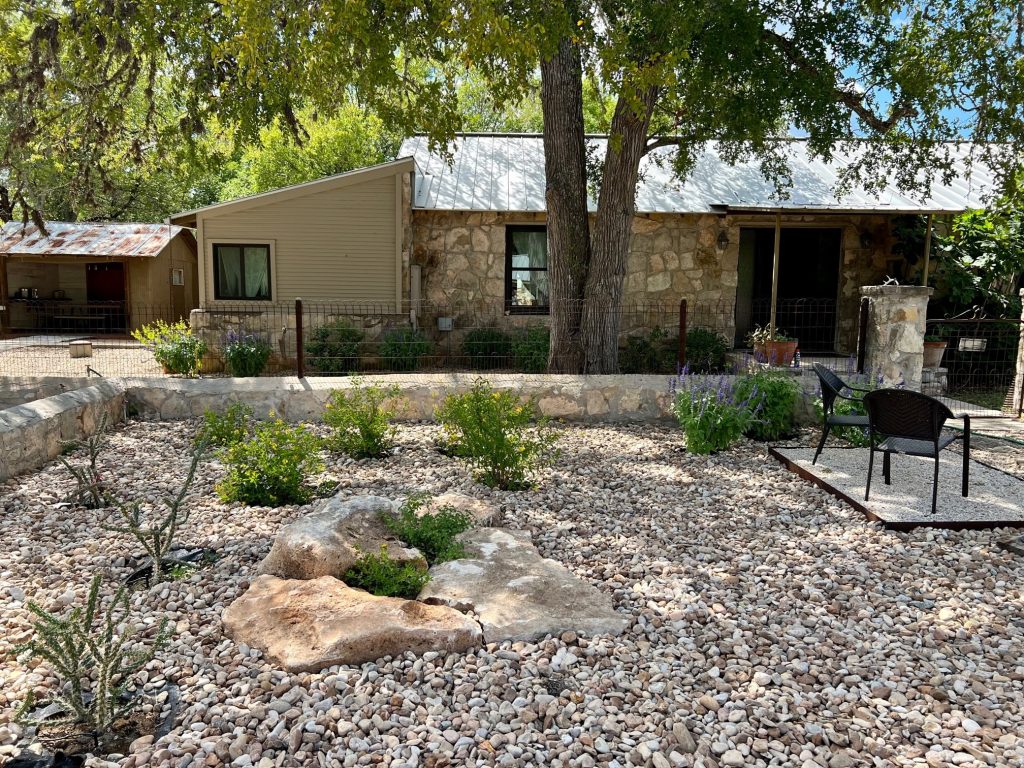 This special house has two bedrooms with a queen-size bed, an attached full-bath house, screened-in porch, and a large stone indoor fireplace for candle use only.
Enjoy the luxuries of a quiet, private respite under the stars at night away from the outside world.
The Bodega House
The Bodega House, a modern industrialized home with warm rustic ambiance. It features three private bedrooms, a bunk bed room with four beds, and two ultra modern full bathrooms with showers. The common area includes a fully equipped modern kitchen, dining area, and a lounge – perfect for reading and relaxing. Our Little Library in the lounge has a selection of eclectic books available for guests. Enjoy the healing effects of our infrared sauna or chill out in your private outdoor sitting area.
The Casita House
This cozy two bedroom stone house has a king-size bed, full-size bed, and one full bath offering a quaint get-away with total privacy. Relax and sink into the soft cushy furniture next to your private large outdoor fireplace and backyard patio.
Additional amenities:
Outdoor grill
Horseshoe pit
Camino Ranchito Campsites
Camino Ranchito offers 2 campsites conveniently located near the Yoga Barn with a full bathroom.
Each campsite has space allocated for 3 large tents to be pitched.
(bring your own tent and camping equipment)
---
Retreat Booking