Course Date 3 – 12 September 2020 – Ayurveda Foundation Course
Ayurveda Foundation Course – 100 hours certified
Teacher: Dr Radhika Agrawal
The 100-hour Introduction to Ayurveda with the emphasis on nutrition and self-care. Ayurveda is an extremely vast topic, we start with powerful basics to improve your life and health immediately. Health is a state of harmony expressed in your mind, body and energy levels. Through Ayurvedic theory and food preparation, you will gain practical knowledge to balance your meals according to your unique needs or current health challenges.
You will gain an understanding of when and why you are balanced or imbalanced and how to return the balance to your physical and mental health.
Daily Routine
Each day will begin with yoga and an occasional early morning trip to the market to purchase the fresh produce. You will participate in two cooking classes and two theory classes daily, covering key Ayurvedic concepts as they apply to food and radiant health. Nature walks through onsite orchard, herbal garden and farm will engage your senses, sight, touch, taste and smell, and heighten your connection to the natural ingredients which you will utilise in the daily cooking classes.
Course Curriculum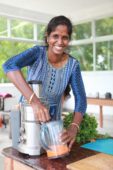 Approach food as medicine, balancing, nourishing, and preventative to common modern ailments.
The physiology of digestion: Maximise the three stages of digestion, absorption and elimination.
Dosha theory: How to recognise imbalanced bio-energies (Vata, Pitta, Kapha) rebalance them through food to avoid related diseases in body and mind.
Understand food through Rasa (taste), Virya (biological potency), Vipaka (post-digestive effect) and Prabhava (special therapeutic characteristics that go beyond the biological properties of a substance).
Learn to listen, respect, and communicate with your own body. Support it, and it shall support you.
The Chaunce: A basic procedure and traditional spice selection in an Ayurvedic curry.
How to prepare balanced meals, including safe carbohydrates, proteins and healthy fats. Essential herbs and their therapeutic Ayurvedic application in the kitchen.
The importance of cooking with respect and love.
Nature walks and talks will help you connect with the fresh produce, herbs and fruits grown onsite. Rounded off with visits and guided talks in the local markets to discover the delights of the local vegetable, fruit & spices — heightening all of the senses!
Optional Activities
During your free time you can enjoy an ayurvedic treatment at Neuroprana Wellness,
onsite Ayurvedic & Naturopathic centre, visit the Sita Devi Charity School, take an auto rickshaw to town, trek to the cave, or hike the summit of the glorious Mt. Arunachala or simply chill in hammocks, Karma Yoga to Trees and plants or be in your own bubble and read a book.
Food
Vegetarian and vegan foods will be served three times a day. Our food is fully sattvic, grown locally – no onion, no garlic, no eggs. We will introduce juicing and raw food during some of the course meals. In between class sessions and meals you can observe the practise of Mauna (silence) for internalising awareness.
General Information
We are served by two airports in the region, Chennai (Madras) and Bangalore. Airport transfers to/from either airport to the Ashok Tree can be arranged at an additional cost.
Cost of 10-day Course
£690– £970
Early Bird Pricing – Book by 31 July 2020
Room selections include super deluxe, deluxe or standard rooms.
Accommodation options include shared & private basis.
Price includes:
10 days / 9 nights accommodation

3 meals a days

Course Tuition

Local trips to markets – vegetable, fruit & spice

Airport transfers between Chennai & Yogiville
Booking & Payment